Expectations
All students are representing the College as soon as they are wearing the College uniform. We expect students to wear their uniform with pride at all times, from when they leave home to arrive at College and until they return home in the evening.
Uniform Supplier
Our approved uniform  supplier is Vortex schoolwear. The web address for online ordering Horizon approved uniform  is: https://www.vortexschoolwear.co.uk/Secondary-Schools/Horizon-Community-College/
Vortex are taking orders on the website so that when they re-open they can prioritise orders. New stock will be arriving mid July.
Detailed information on uniform expectations for the academic year 2020-2021 can be found in the booklet below. Please read and get in touch with School teams if you have any questions.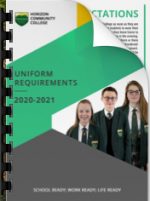 Uniform Requirements 2020-2021 booklet