Term starts: Wednesday 1st September
Half Term Holiday: Saturday 23rd October
Term starts: Monday 1st November
Christmas Holiday: Saturday 18th December
Term starts: Tuesday 4th January
Half Term Holiday: Saturday 19th February
Term starts: Monday 28th February
Easter Holiday: Saturday 9th April
Term starts: Monday 25th April
Half Term Holiday: Saturday 28th May
Term starts: Monday 6th June
Term Ends: Wednesday 20th July
Friday 22nd October 2021
Friday 17th December 2021
Monday 31st January 2022
Friday 18th February 2022
Friday 1st July 2022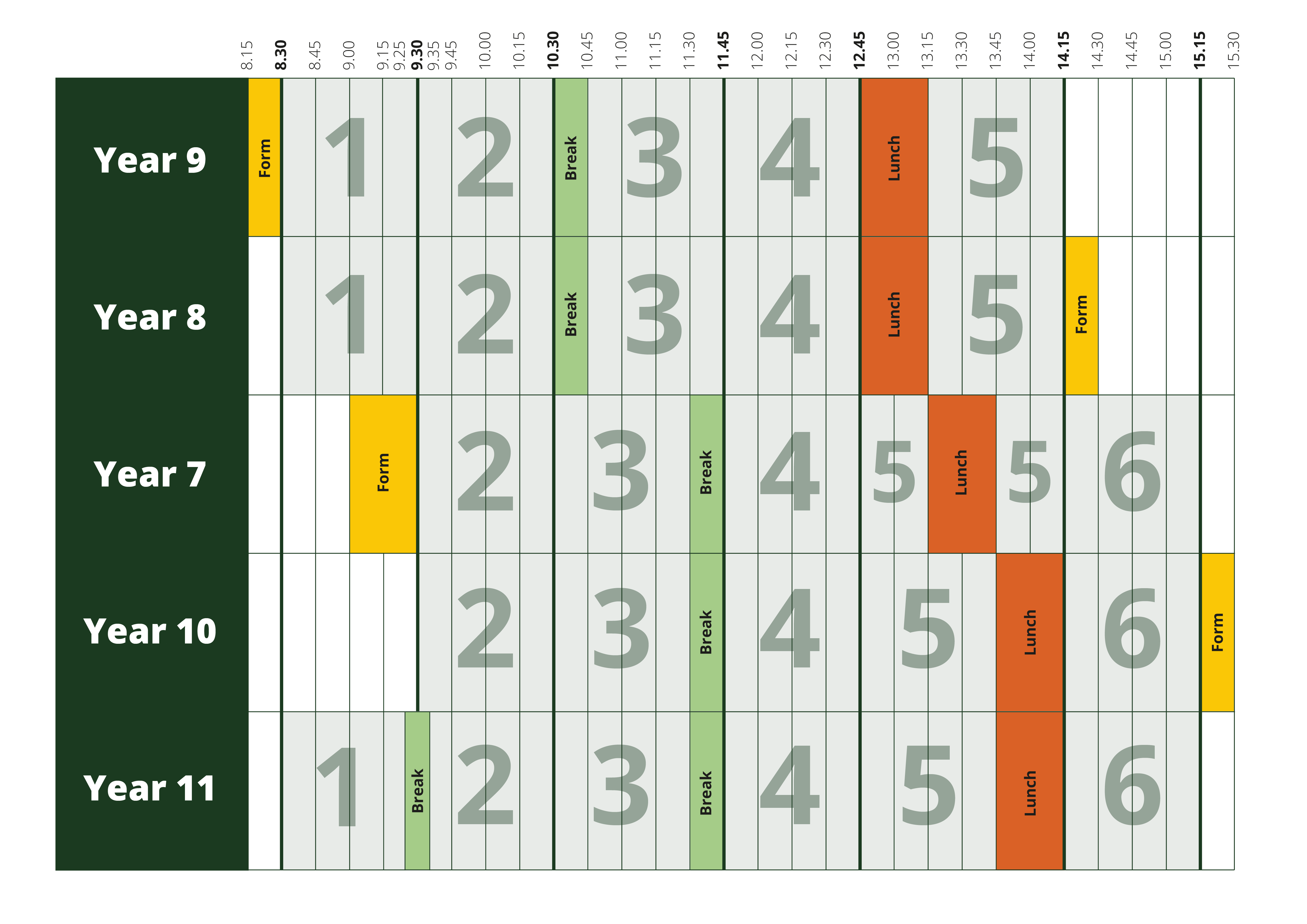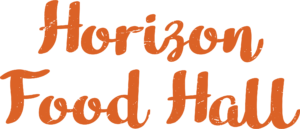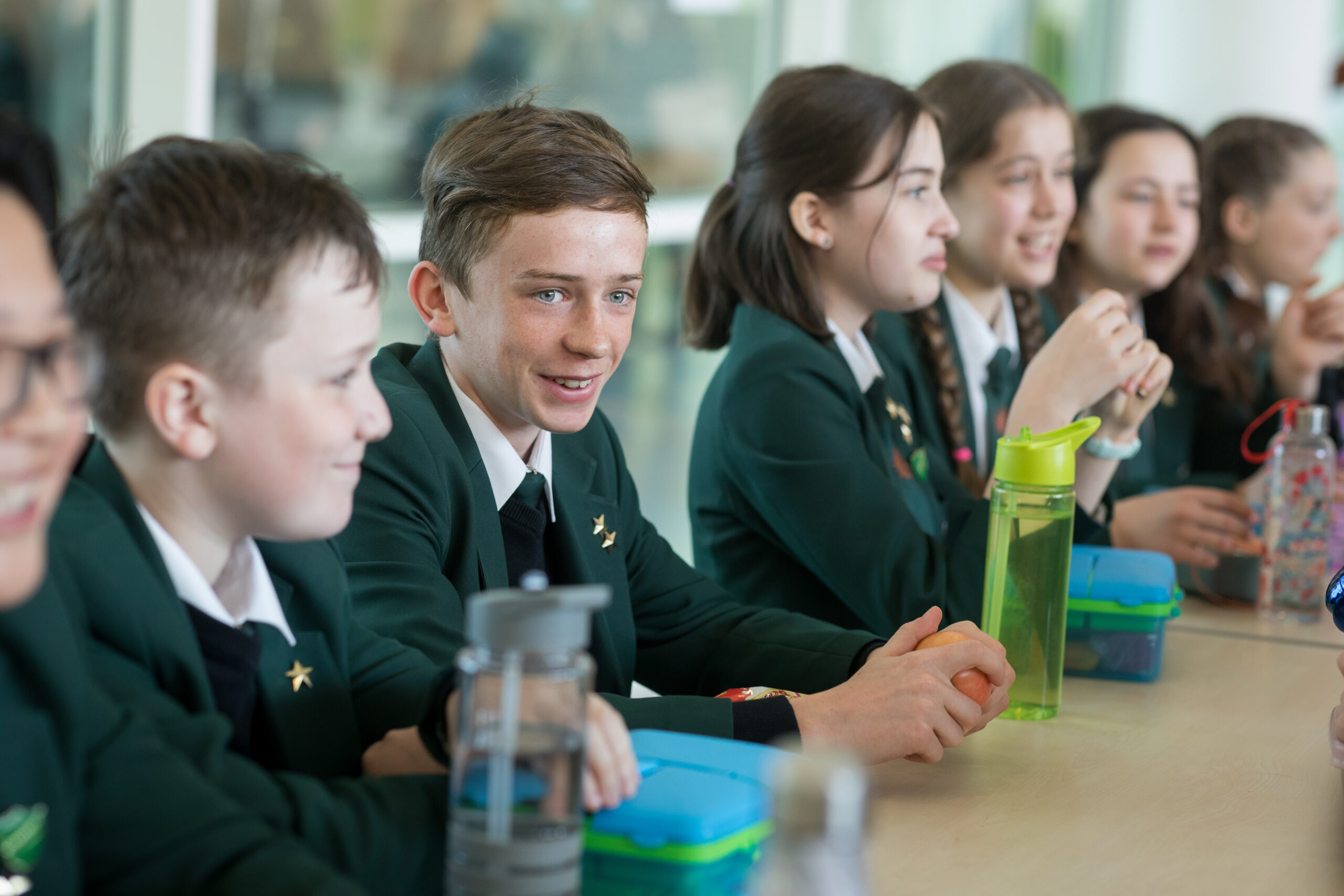 To apply for a place at Horizon Community College
For Standard admissions at the point of secondary transfer:
Details are available in the Barnsley Metropolitan Borough Council booklet  'Admission to secondary school – a guide for Parents'  and online by clicking here.
If your child is currently in a primary school in the Barnsley area there are two ways to apply: 
Complete the application form and return it to the Headteacher of your child's primary school.

Apply online by logging on to the Barnsley Authority website (as per link above) and follow the instructions.
Horizon Community College provides places for young people between the age of 11-16.
Our arrangements for selection are handled by the Local Authority
Our over subscription criteria is also handled by the Local Authority
If you live outside the Barnsley Authority or would like to transfer your child into a year group other than Year 7, or at a time other than at the standard secondary transfer point (ie within year, including Year 7), please contact Barnsley Metropolitan Borough Council's Admission Department (01226 773677)  to obtain the appropriate application form.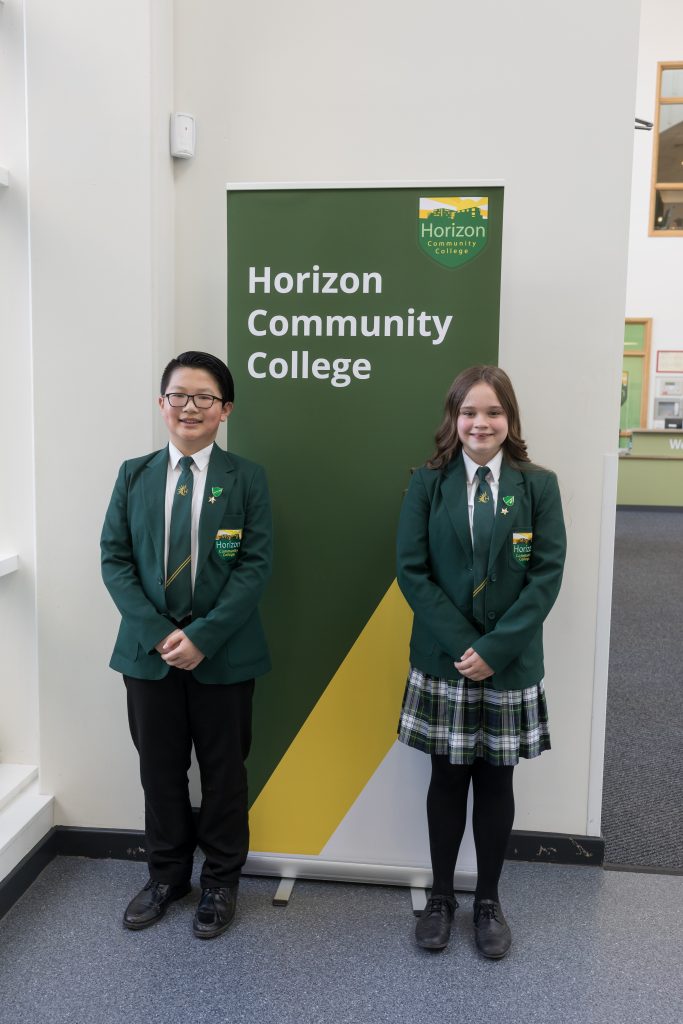 All students are representing the college as soon as they are wearing the College uniform. We expect students to wear their uniform with pride at all times, from when they leave home to arrive at College and until they return home in the evening.
Horizon Prospectus 2022 Intake
It is a fact that if attendance drops below 95%, achievement can be affected by one grade.
Attendance on a school day is compulsory. If you are not in school then you must have a justifiable reason for absence. Parents/Carers should inform the school absence line on the first day of absence via telephone and every day there after.
If your child is going to be absent for an appointment we would ask that proof of the appointment is brought into school well in advance (whenever possible). However, we would prefer that all appointments are made outside of the child's timetable.
Parents are requested not to arrange family holidays during term time. Requests for leave of absence should be submitted on a leave of absence form that is available within school on request and should be completed well in advance.
It is a fact that if attendance drops below 95%, achievement can be affected by one grade.
Punctuality is an important part of self-discipline and is essential to good time management.
Always make sure that you are in the appropriate classroom no later than the times shown in the section on timing of the school day.
If you arrive late for school you shall be given a one hour detention that shall be served the following day after school.
If you arrive late to school due to attending appointments/ or any other reason then you must sign in at the student reception desk. You will be marked late in the register and will need a note explaining the reason for late arrival. If there is not justifiable reason a punctuality detention shall be issued for the following night after school.
If you arrive after the closure of the register it may be recorded as an unauthorized absence. All unexplained absences shall be followed up by staff in the attendance office with a call home.
Leave of Absence in term time
The Anti-Social Behaviour Act (2003) provides the Local Authority, Schools and Academies the power to issue penalty notice fines for unauthorised leave of absence in term time.
No parent can demand leave of absence as a right.
Any request for leave of absence must be made in advance.
The request for leave of absence should be made by the parent /carer "with whom the child normally resides". If this is the parent /carer who is not taking the child out of school / academy, the full name and address of the parent /carer who is taking the child out of school/academy must be provided on the form.
There is no requirement to authorise just because a request has been made. The amendments under The Education (Pupil Registration) ( England) Regulations 2006 make it clear that head teachers may not grant any leave of absence during term time unless there are exceptional circumstances*. *See Code of Conduct /Guidance relating to Leave of Absence
The circumstances of each individual request for leave of absence will be taken into account on a case by case basis.
The decision to approve / not approve the request is for the school / academy, not the Authority or the parent. Only schools/ academies can authorise / not authorise absence.
If important work has been missed by the pupil due to the parents making a request for leave of absence the parents should not expect special arrangements to be made by the school/ academy for that pupil to catch up that work.
If you go ahead with the leave of absence when unauthorised, you may receive a Penalty Notice issued by the Local Authority. This penalty will be £60 per child if paid within 21days; payment after this time but within 28 days is £120
Failure to pay a fixed Penalty Notice will render you liable to criminal proceedings in the Magistrates Court under Section 444(1) of the Education Act 1996.
If you need to request a leave of absence please fill in the form and e-mail to attendance@horizoncc.co.uk
Return to school and covid testing for september 2021
School Meals Information for September 2021
At Horizon Community College we are invested in giving our students every opportunity to develop their interests and passions beyond the classroom. Our extensive personal development program takes our students on a journey, building character and resilience ensuring personal growth year on year.
For further information regarding the clubs and enrichment activities, please ask your child to see their subject teacher.
In addition to our extensive after school programme detailed below, we now have enrichment activities on offer at lunchtime, open to every student, every day. Students can head to the heart space to play board games, go up to the library for themed daily events such as Magazine Mondays, play football on the Muga or hit the theatre for breakdance.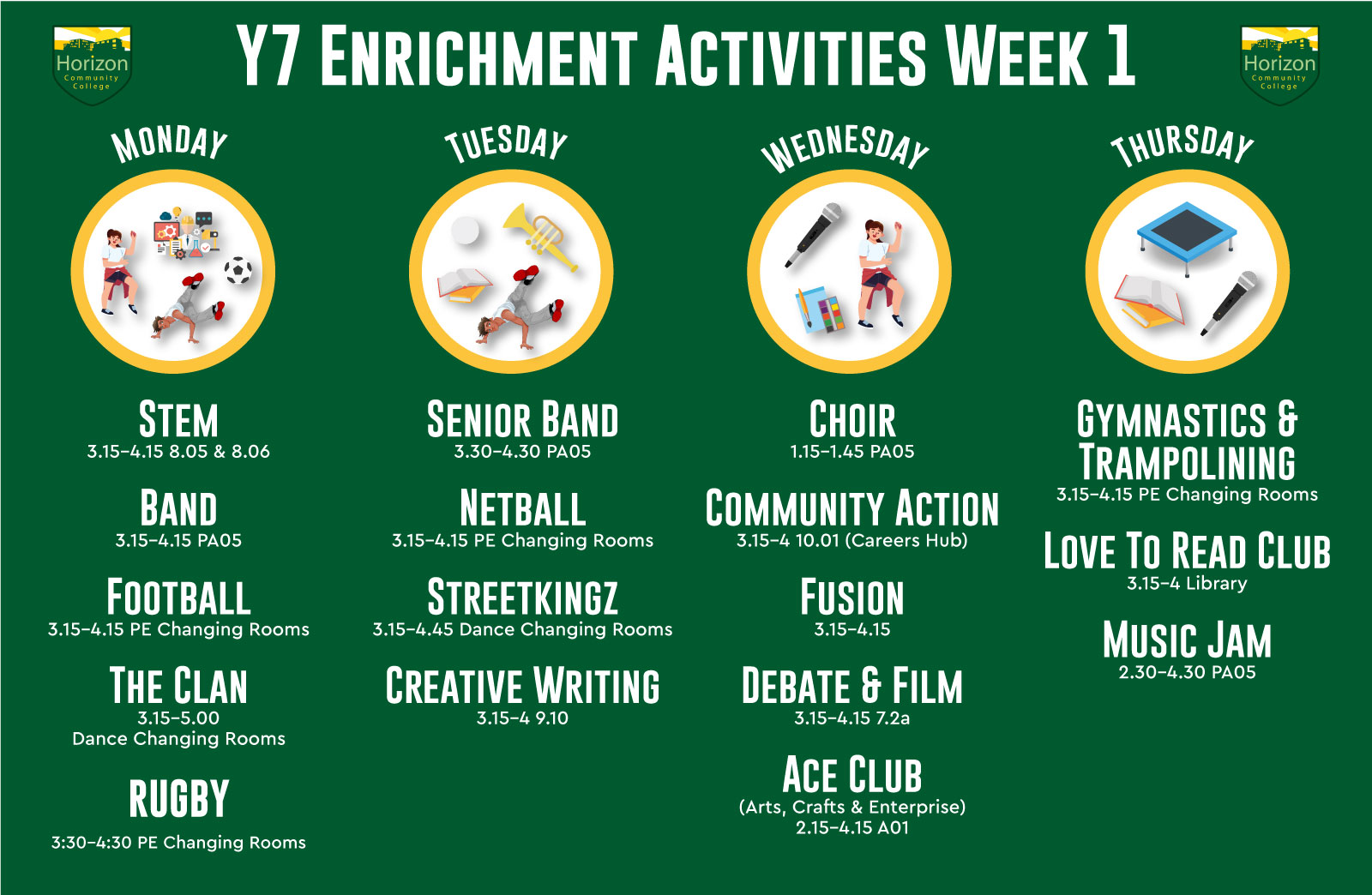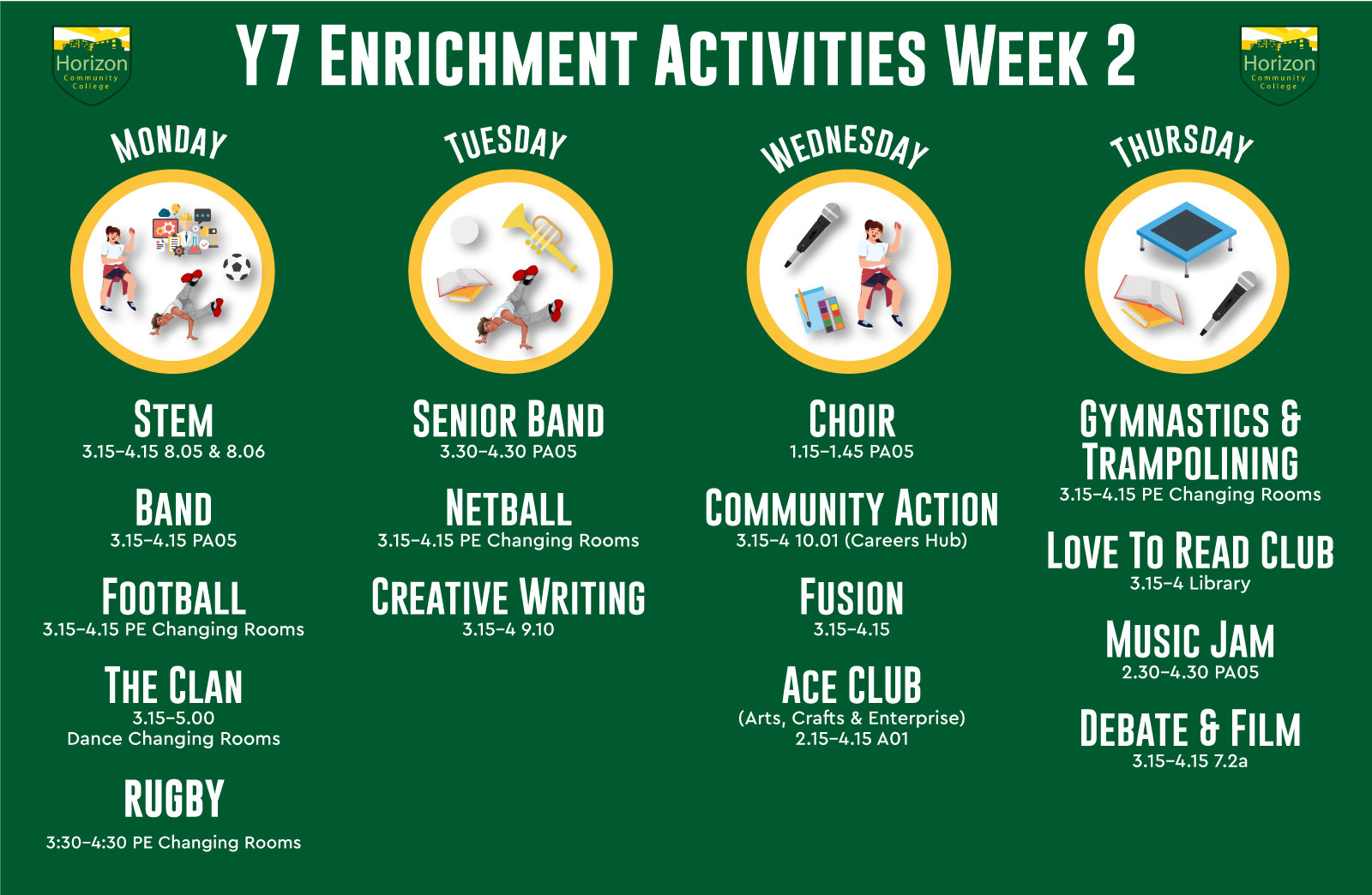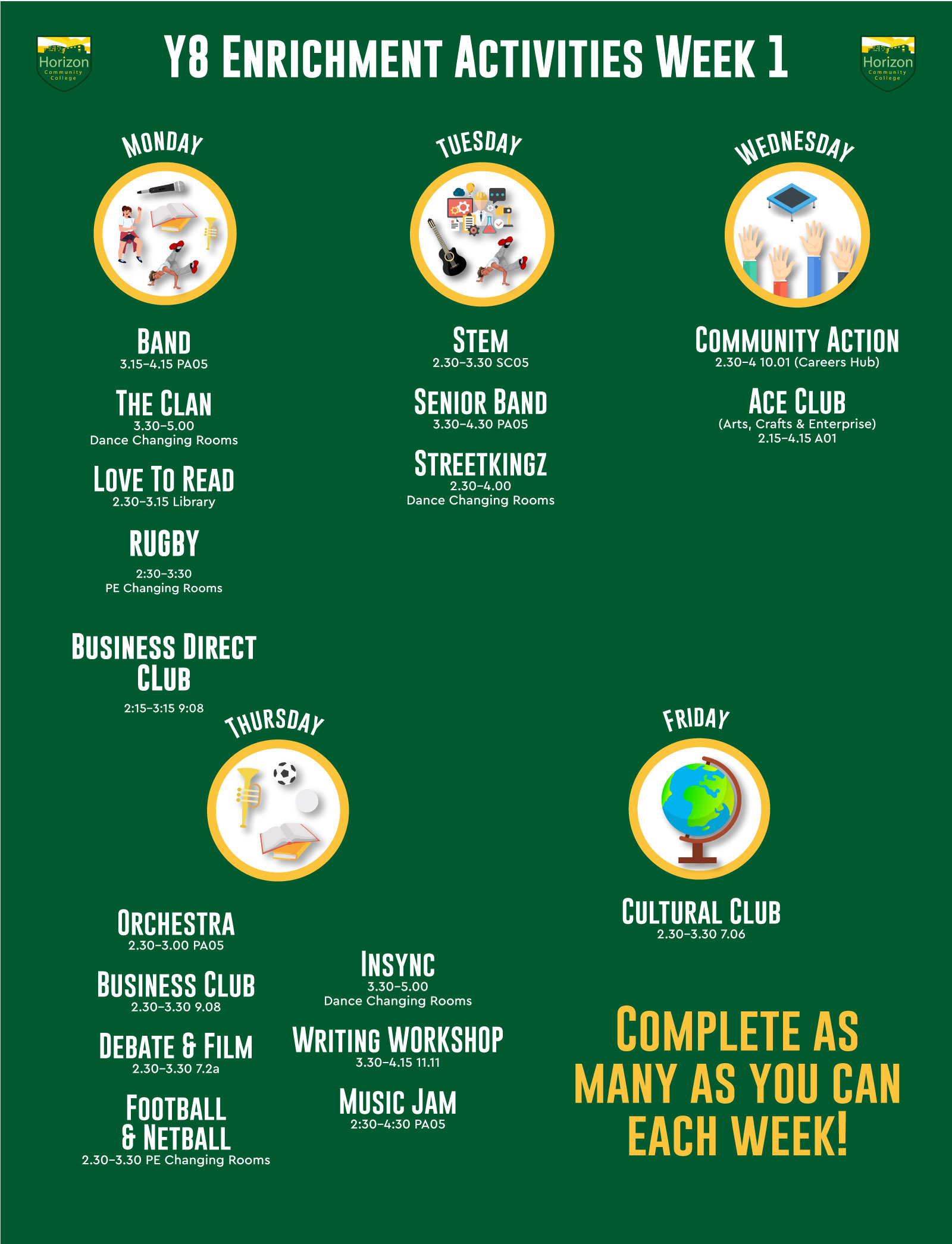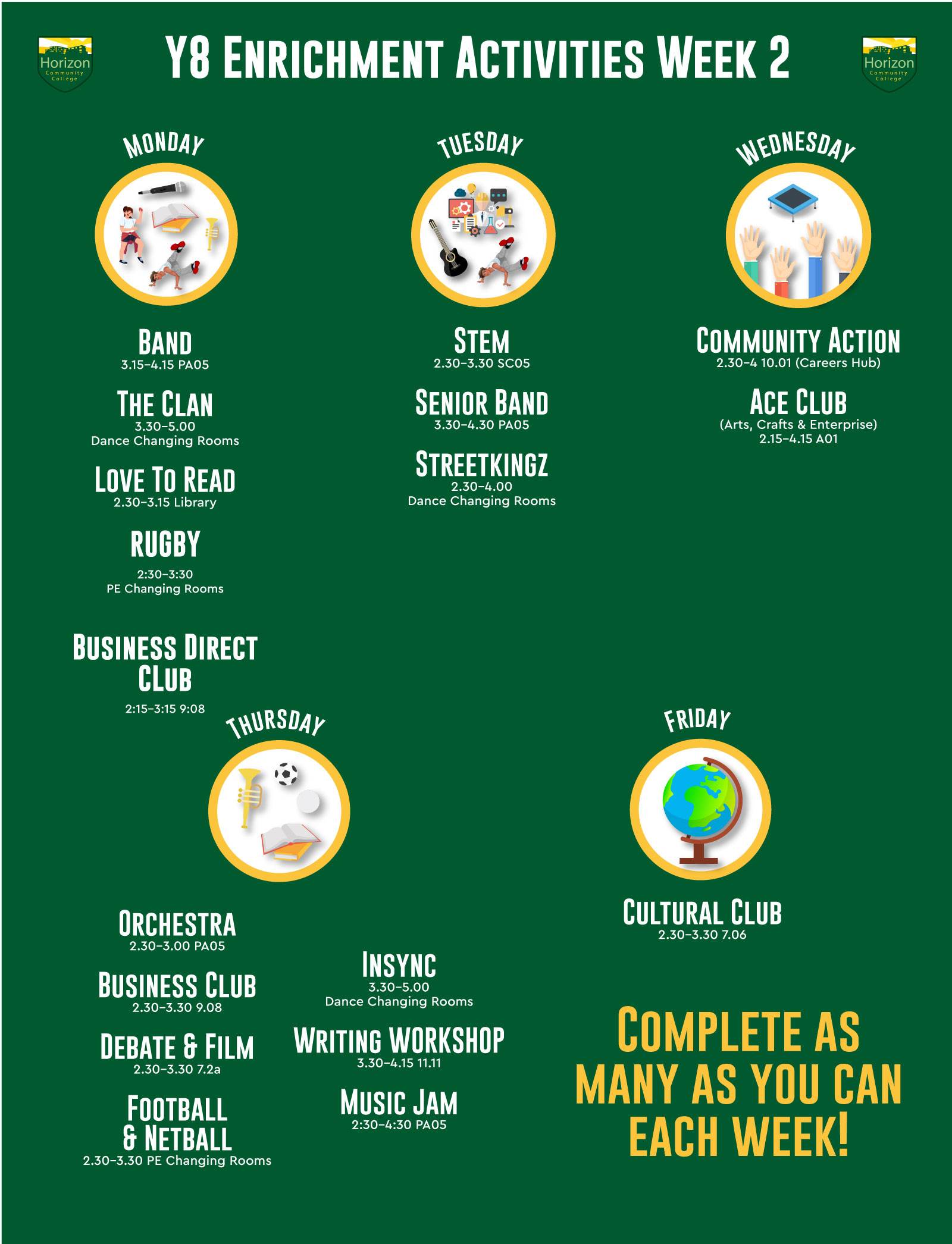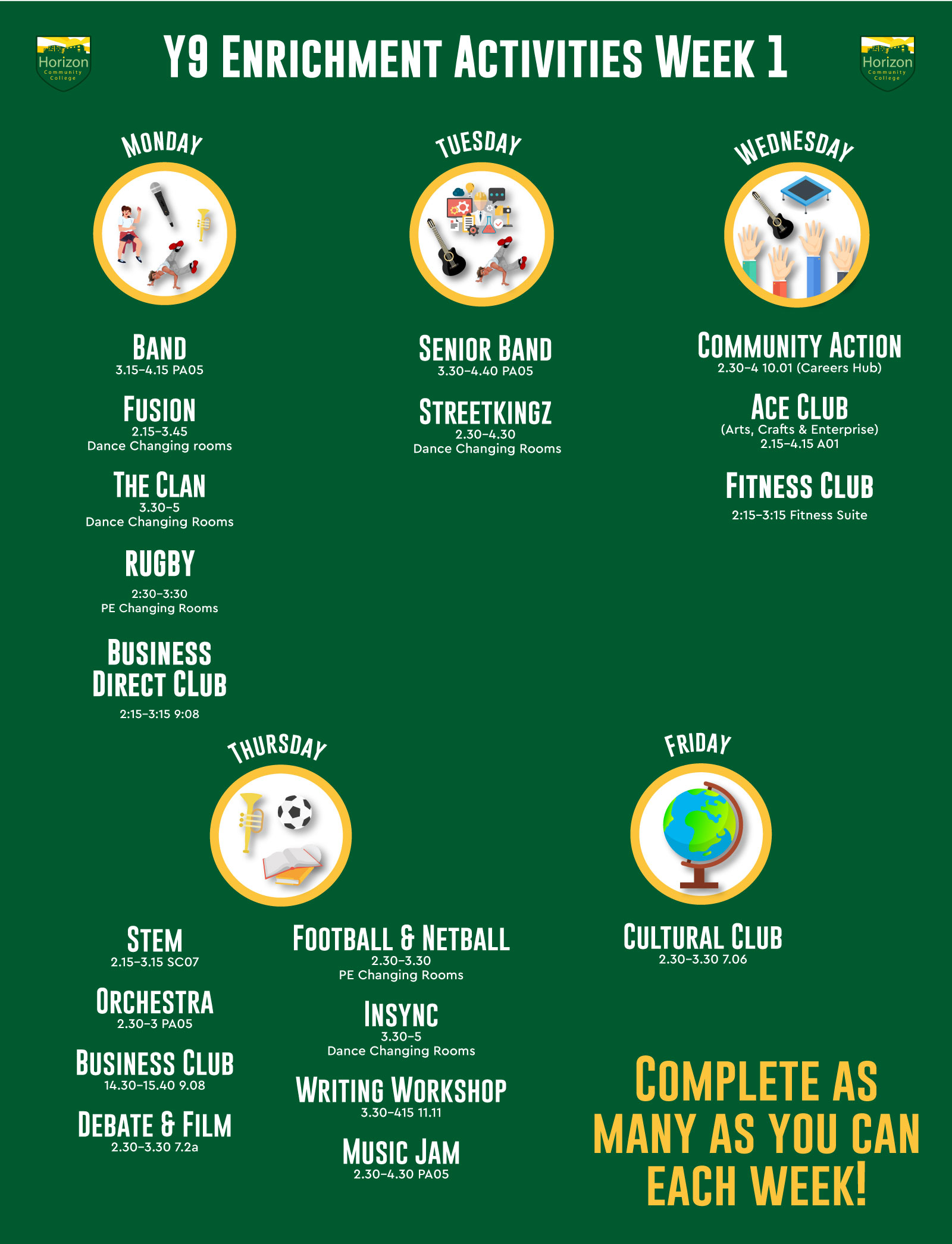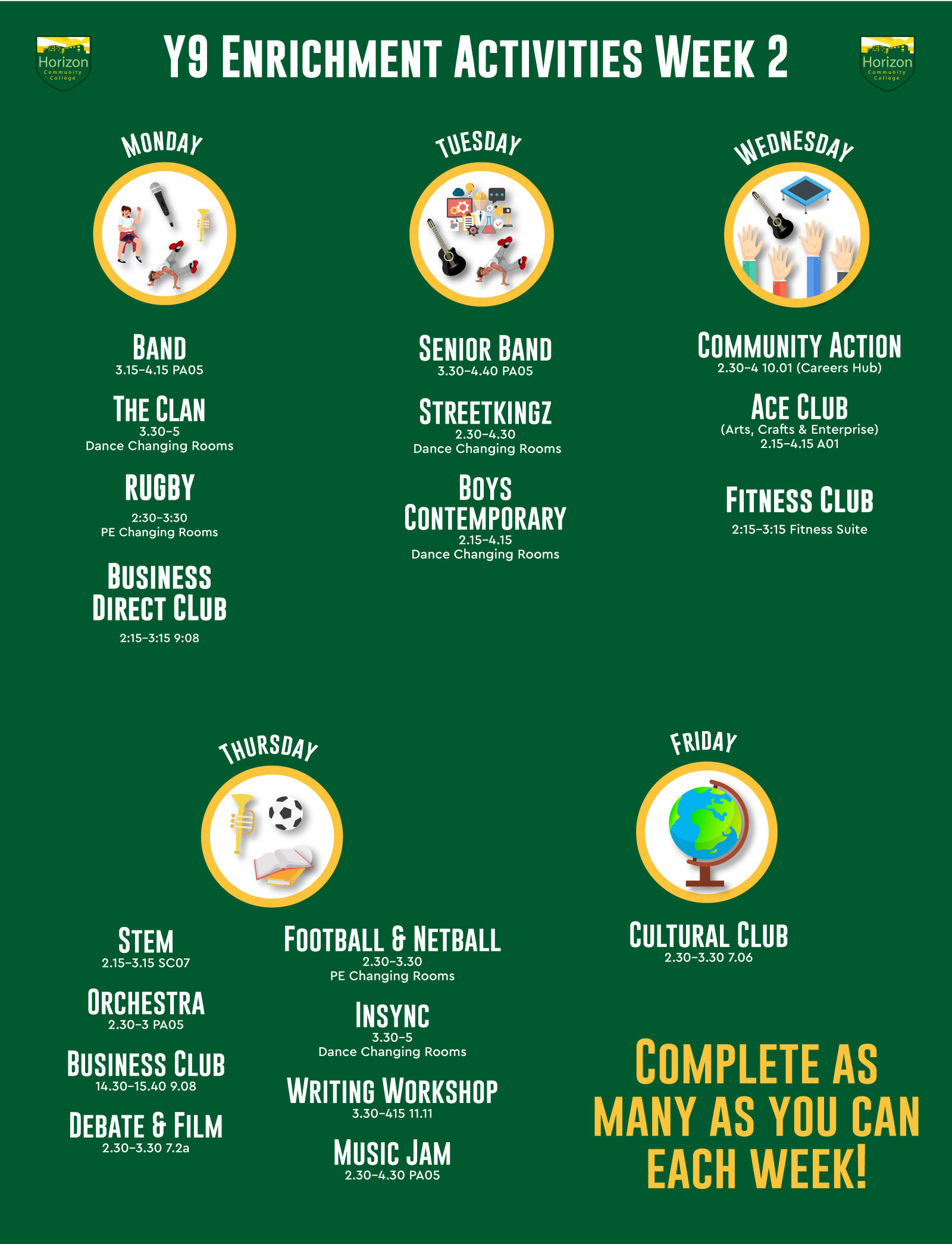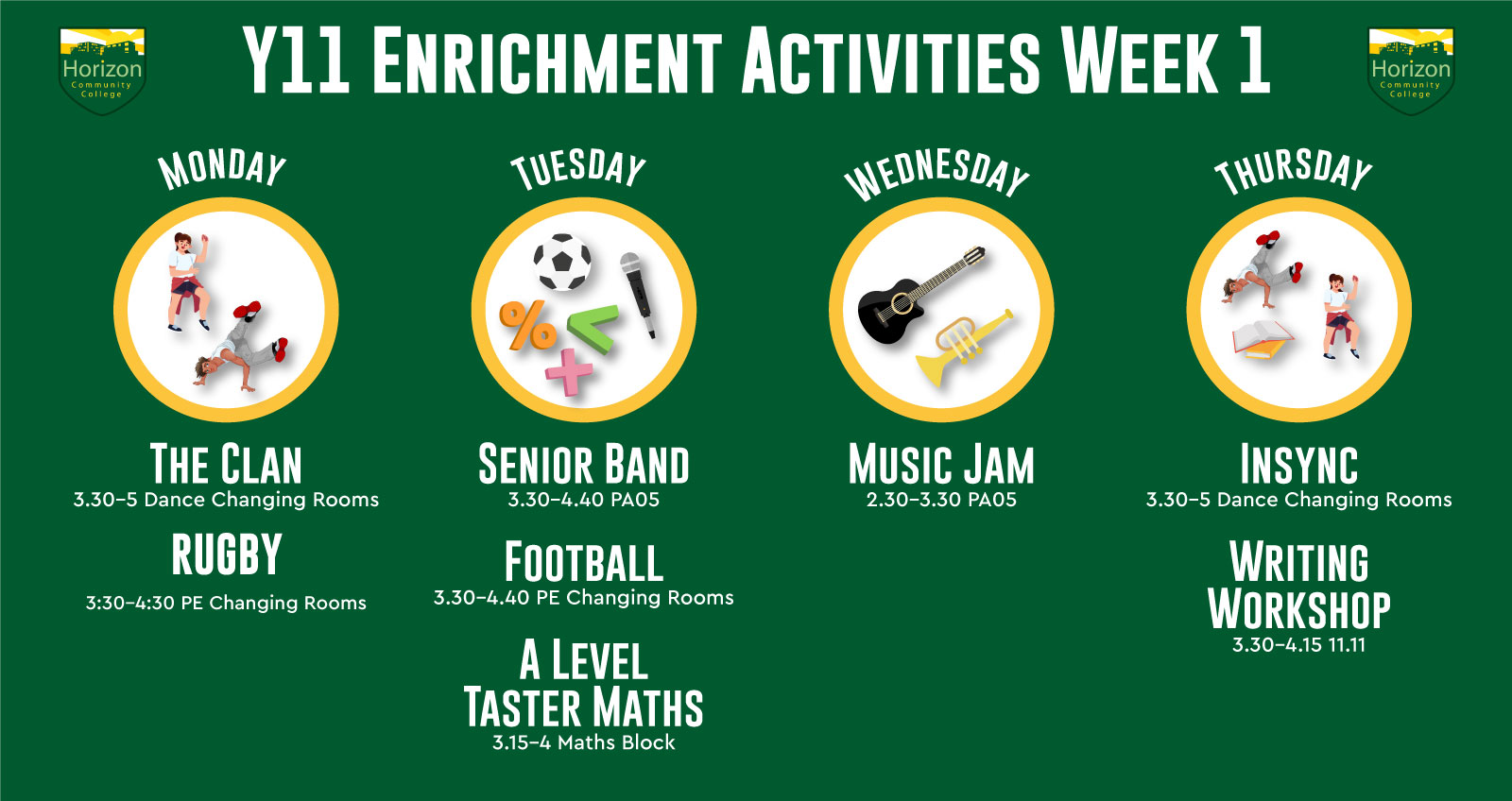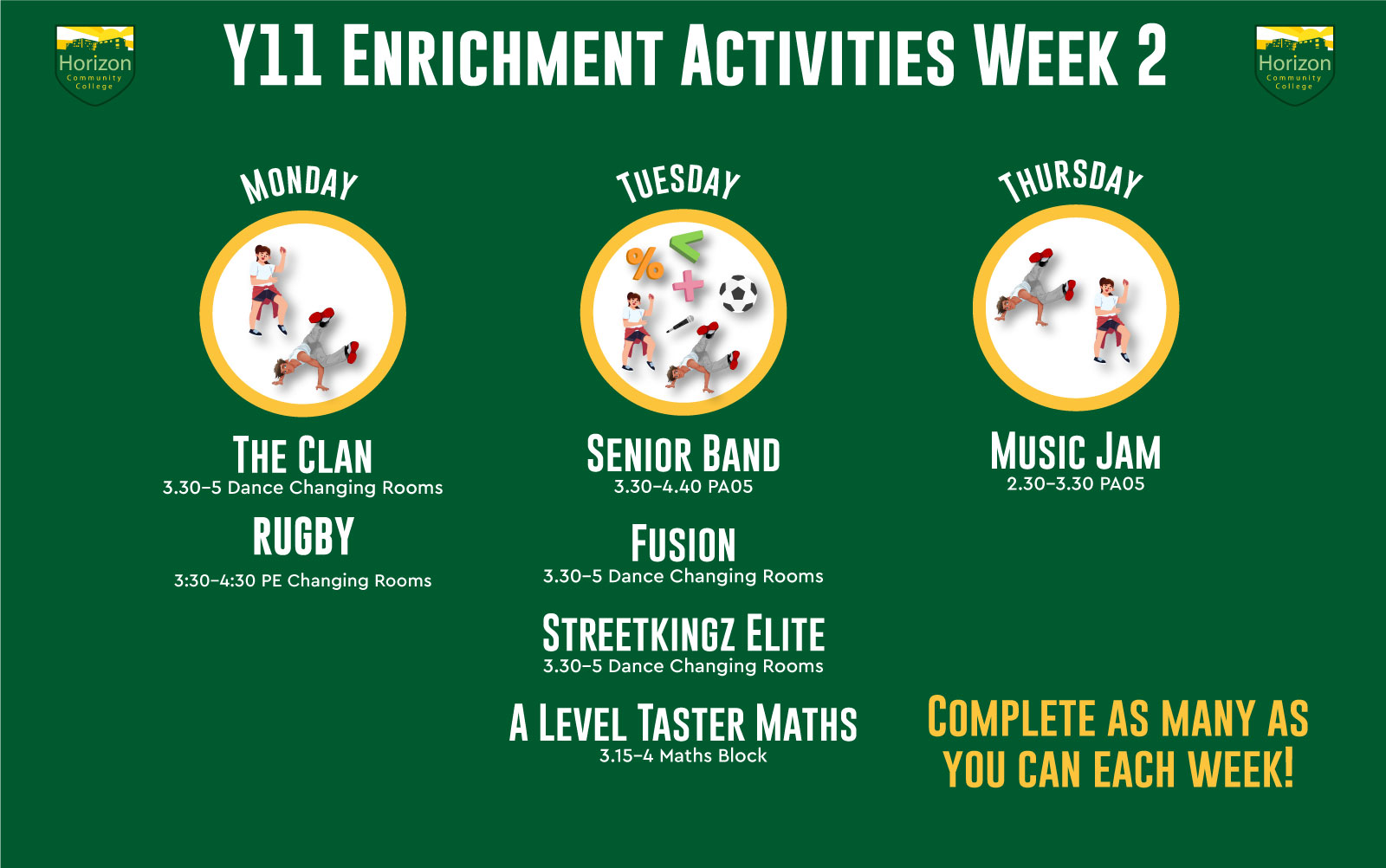 Horizon Community College is committed to safeguarding and promoting the welfare of children and young people. Horizon has a committed team of staff who are trained as Designated Safeguarding leads or 'DSL'.
Parents and Carers can feel confident that robust procedures are in place to ensure that all staff are suitable to work with children here at Horizon.
It is important to us that parents, carers and students perceive Horizon as a safe space and encourage children to talk freely about any concerns or worries which may affect educational progress.
Children will be taken seriously if they seek help from a member of staff. Students may be referred for additional bespoke support from external agencies and will always endeavour to work in partnership with parents to inform them of additional support required or accessed for their child. However, staff cannot guarantee to consult parents first, or to keep children's concerns confidential, if a referral must be made to agencies in order to safeguard the child's welfare.
Keeping Children Safe in Education is statutory guidance that schools and colleges in England must have regard to when carrying out their duties to safeguard and promote the welfare of children.
If you have any Safeguarding concerns regarding your child please visit our Safeguarding section of the website by Clicking here
| | |
| --- | --- |
| Deputy Designated Safeguarding / Wellbeing Lead | |
| Deputy Designated Safeguarding / Wellbeing Lead | |
| Student wellbeing – Year 7 | |
| Student wellbeing – Year 8 | |
| Student wellbeing – Year 9 | |
| Student wellbeing – Year 10 | |
| Student wellbeing – Year 11 | |
| | |
| | |
The 478 and 479 services are commercial operations and are not provided by Horizon.
The bus timetables given are subject to change by the operators, based on passenger numbers and other factors. The college will work with operators to inform families of any changes in advance.
If you have any questions about the services, please contact the operators directly:
Globe – 01226299900
Hodgsons – 01226 288581
HCC Risk Assessment (Updated 06/09/21)
Safeguarding and Child Protection
Teaching and Learning Policy
HCAT and Covid Testing Centre Risk Assessment (Updated 12/01/2022
Year 11 Mock Exam Information
Parental Engagement Workshops
Please see linked below a number of videos regarding mental health and how to support your child. If you would like any further information or support please do contact school. 
Body Image & Eating Disorders